The car made of high-quality electric deformation police car materials, have strong collision resistant, durable shockproof car body, reduce the damage of falling by accident and prolong the service time.
The car just add 3 AA batteries. This is a comprehensive replica model true to the actual vehicle with a full function range including working LED lights, forward, reverse, stop, left and right. Remember the better the batteries the faster the car will go.
The toy cars not only will help to develop your kids'early educational skills (like thinking, imagination shape recognition and hand-eye coordination), but also will get hours of fun from kid.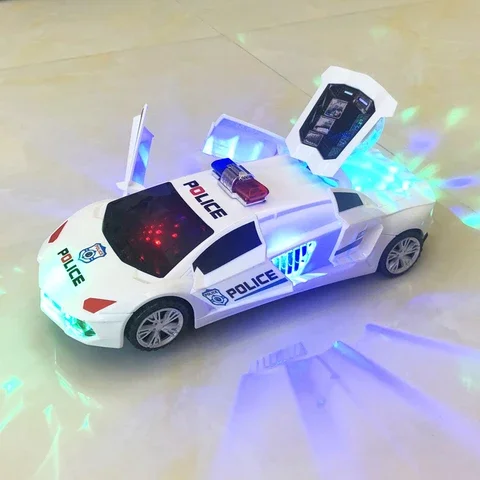 This toy cars set is perfect for birthday party, Christmas, New Year and other occasions. It is not only fun for kids to play with, but also helps with kids development.
SPECIFICATIONS:
Material: ABS, Electronic Component
Battery: 3 AA batteries (Not Included)
Age: 4 +
Matters needing attention in battery use.
1. Do not mix old and new batteries or different types of batteries.
2.Battery damage or liquid leakage must be replaced, can not be recharged, once the skin or clothing contact with the battery liquid, be sure to clean immediately.
3.Please cover the power supply connection warehouse cover to prevent dust or water.
4. Do not charge near combustibles or on the surface of flammable or conducting objects. Observe the charging at any time as you charge.
Warning: the product is not edible, the battery is explosive, stay away from the source of fire when using, do not put into the fire. If the battery is too long or oxidized, please renew it in time, otherwise it will affect the service life of the product. Please use the product accompanied by your parents and pay attention to safety.
Size: