THIS ADORABLE PEEK-A-BOO ELEPHANT IS THE BEST SINGING STUFFED ANIMAL FOR BABIES!?
This adorable peek-a-boo elephant is the best singing stuffed animal for babies! The elephant will surely amaze any child. The perfect hide and seek toy for babies and toddlers. The peek boo musical elephant is soft, pleasant to the touch. The peek-a-boo animated elephant is made from the softest of plush. Our musical elephant sings and plays along to "do your ears hang low" and "peekaboo" at the press of a button.
The cute voice and soft touch of this plushy elephant will bring hours of joy and comfort to your little boy or girl. She dances and sings along to the best nursery rhymes and will entertain your toddler for hours.  The beautiful toy is washable and quite easy to clean.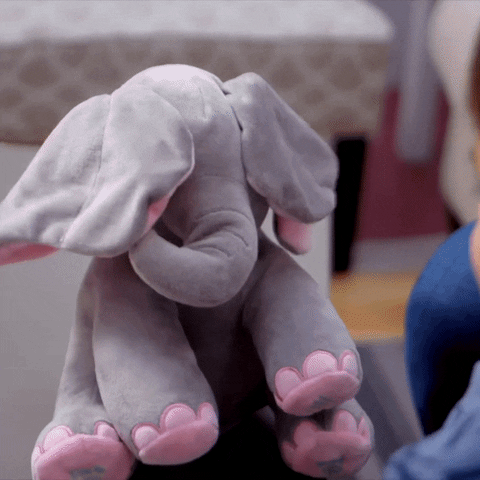 FEATURES:
✅ Made from high-quality, huggable plush material.
✅ Interactive baby toy
✅ Soft, plush elephant
✅ Soft outer fabric is soft to touch
✅ Sing option on one foot (sings "Do Your Ears Hang Low?")
✅ Play option on the other foot (plays peek-a-boo with your child)
✅ Battery-powered (3 AA batteries not included)
✅ Peek A Boo Elephant is 12 inches (approx. 30 cm) tall.
✅ Ivy sings, dances, and even plays peek-a-boo with her soft, floppy ears!
The Perfect Gift
SPECIFICATIONS:
PACKAGE INCLUDES: 1 x Peek-A-Boo Elephant Toy
Matters needing attention in battery use.
Do not mix old and new batteries or different types of batteries.
Battery damage or liquid leakage must be replaced, can not be recharged, once the skin or clothing contact with the battery liquid, be sure to clean immediately.
Warning: the product is not edible, the battery is explosive, stay away from the source of fire when using, do not put into the fire. Please use the product accompanied by your parents and pay attention to safety.